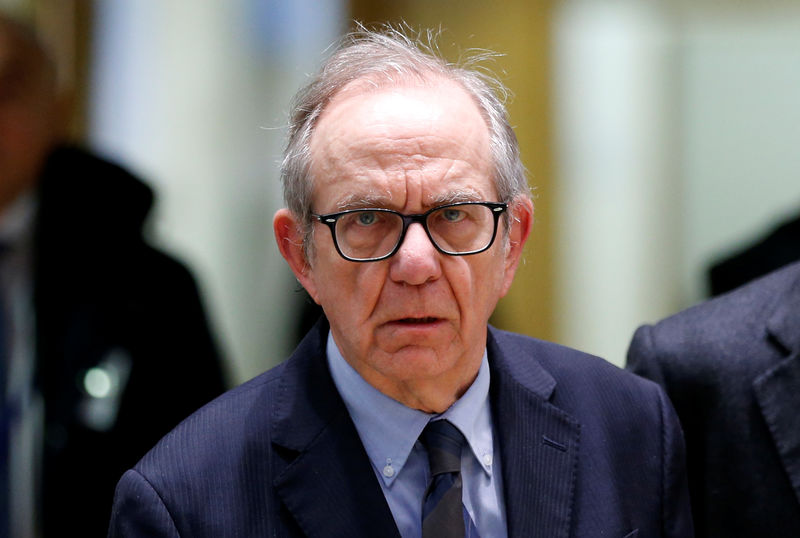 © Reuters. Italy's Finance Minister Padoan arrives to attend a eurozone finance ministers meeting in Brussels
ROME (Reuters) – A proposal by a center-right coalition, leading polls ahead of a March 4 election, to issue small-denomination sovereign bonds would damage public accounts and curb economic growth, Economy Minister Pier Carlo Padoan said on Thursday.
The center-right alliance dominated by former prime minister Silvio Berlusconi's Forza Italia and the eurosceptic League is proposing the bonds as a way to pay people and firms owed money by the state.
Padoan, who has served as a technocrat in a government run by the center-left Democratic Party (PD), told RAI state TV the scheme was "a plan to circulate a disguised parallel currency".
"Historical experience shows that, in these cases, a country that adopts a double currency drastically damages its public finances, growth potential and stability," Padoan said.
Proposals to flank the euro with new financial instruments have caused some concern among investors, who ditched Italian debt last year when Berlusconi said he wanted to print a "new lira" for domestic use.
While the general scheme is backed by the center-right grouping, which also includes the far-right Brothers of Italy, the League has separately championed a detailed plan to issue "mini-BOTs", named after Italy's short-term government bonds.
Once in circulation, the League says these notes could be used to pay taxes and buy state-provided goods and services, such as petrol from government-controlled oil company ENI (MI:ENI).
The League maintains that such a measure would not constitute printing a parallel currency, which countries that use the euro single currency are prohibited from doing.
According to the last polls published before a blackout period began last week, the center-right has a clear lead but is unlikely to win a working majority.
Most polls put Forza Italia ahead of the League by varying margins, while the anti-establishment 5-Star Movement is the most popular single party, polling on average a shade ahead of a center-left coalition formed around the PD.
sponsoredArticle = 'div-gpt-ad-1466339494851-0';